Latest Lights Reactor (2 models available)
"An ideal add-on for the discerning hobbyist.
Categories: Reactors, Lights Reactors
Model No.: LR-150 & LR-200
Features & Benefits
1)Circulation Pump Included
2)High-Quality Hand Made acrylic construction
3)Removable 3 tiers strainer container for easy harvesting
4)Strainer Flip Stand – for easy maintenance
5)Adjustable light intensity
6)IP67 Certified LEDs containment
7)Perfectly balance of light spectrum for optimal Chaetomorpha growth
8)Unique Triangular LEDs Strips placement for a balance of 360 degrees coverage
Overview
Our LR Reactors are made with the most robust material to ensure that they adhere above the industry standards of keeping in shape and watertight. With our unique Triangular LEDs placement eradicating blind spots couple with optimum spectrum guarantees a quicker growth rate.
Harvest timeline can be easily controlled via the adjustable light intensifier should you wish to slow down the growth rate. Bundled with a 3 Tiers Strainer Basket to make harvesting a breeze.
Available in 2 models – LR-150, LR-200
Warranty (against manufacturing defect):
2 years* – pump motor only
What's included
LR-150
LR-200
Article Code
Items
Model No.
Qty
Model No.
Qty
A
Lights Holder
–
1
–
1
A1
Holder Cover
–
1
–
1
A2
O ring
22*5
1
22*5
1
A3
Holder
–
1
–
1
A4
O ring
35*3
1
35*3
1
B
Reactor Cover
–
1
–
1
C
Strainer
–
1
–
1
C1
Screw
M5*15
9
M5*15
9
C2
Holder
–
9
–
9
D
O ring
145*4
1
203*3.5
1
E
Screw
M8*25
6
M8*25
8
F
Chamber
–
1
–
1
G
Threaded Nozzle
17/20mm
1
20mm
1
H
Pump
AQ-1200
1
AQ-2000
1
I
Threaded Nozzle
20mm
1
25mm
20/25mm
1
J
Outlet Nozzle
–
1
–
1
K
O ring
22.2*2.4
1
28.8*3.1
1
L
Lights
L-410
1
L-410
1
M
Lights Adjustable Switch
–
1
–
1
N
Power Adapter
DC12V / 2A
1
DC12V / 2A
1
Technical Data
Lights Reactor
Item No.
Product
Wet/Dry
Diameter
Footprint
Height
Tank Volume
Power(w)
mm
inch
mm
inch
mm
inch
L
US Gal
Lights
130309
LR-150
Both
150
5.9
230
205
9.1
8.1
510
20.1
200-600
52-158
18
130310
LR-200
Both
200
7.9
285
265
11.2
10.4
510
20.1
500-1000
132-264
18
Circulation Pump
Product
Model No.
Wet/Dry
Power
Max Head Height
Maximum Flow Rate
50Hz
60Hz
50Hz
60Hz
50Hz
60Hz
W
W
m
Ft.
m
Ft.
LPH
GPH
LPH
GPH
LR-150
AQ-1200
Both
10
15
1.1
3.6
1.3
4.3
1300
343
1287
340
LR-200
AQ-2000
Both
42
45
2.0
6.5
2.1
6.9
2000
528
2203
582
Electrical or other Certification
Pumps (AQ) – CE & PSE certified
Lights – CE certified
Explosion Charts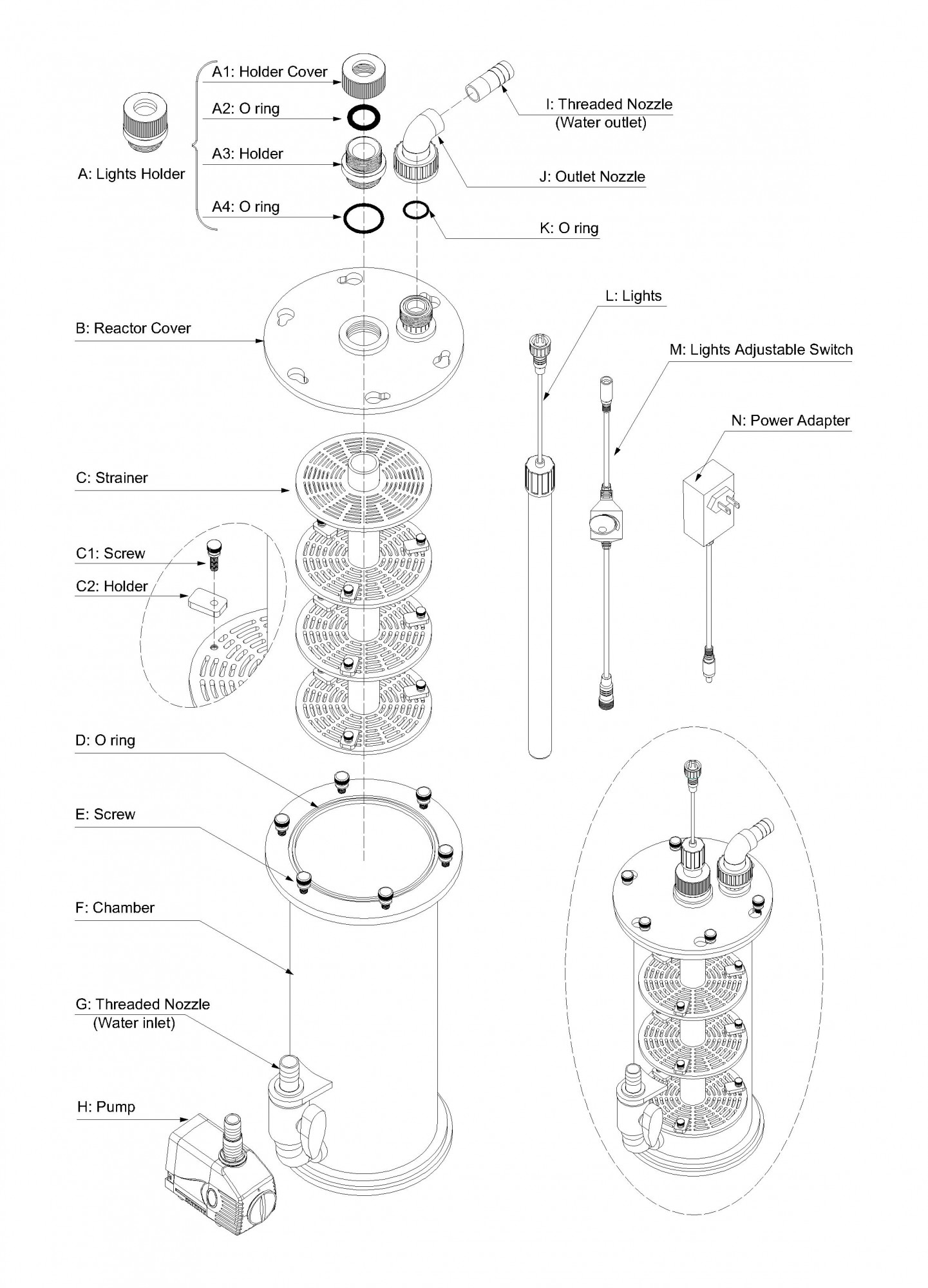 Downloads