Classic, Protein Skimmers
Classic Protein Skimmer HOB (5 models available)
"Over a decade of proven reliability."
Did you know?
We are the first protein skimmer manufacturer in the world that designs and produces our own skimmer pumps. Our skimmer pumps have been specifically engineered to enhance and increase the efficiency of our protein skimmers.
Product Name: OCTO Classic Protein Skimmers HOB
Model/Type:Hang-On Skimmer
Series: OCTO
Model No.: Classic  2000-HOB, 1000-HOB, 100-HOB, 90-HOB, Classic NS-80
Features & Benefits
External hang-on back protein skimmer
Ultra-efficient AQ skimmer pump
Enhanced performance
Easy to assemble and maintain
Overview
Reef Octopus Hang-On Back Classic skimmers are a proverbial favourite. With its unique design, the pump is mounted externally and under the actual skimmer body (90-HOB,1000-HOB and 2000-HOB)allowing for much less room needed behind the aquarium and less heat-to-water exchange.
The OCTO Classic series HOB is constructed of high-quality acrylic and equipped with the new highly efficient Aquatrance pinwheel pump that produces an ideal mix of water and air for optimal waste removal.
What's included
Article Code
Items
Classic 2000-HOB
Article Code
Items
Classic 1000-HOB
Model No.
Qty
Model No.
Qty
1
Top Cover
2010100143
1
1
Top Cover
2010100142
1
2
Collection Cup
–
1
2
Collection Cup
–
1
3
Elbow
1041500014
1
3
Elbow
1041500012
1
4
Nut
2042200006
1
4
Nut
2042200004
1
5
Holder (include screw)
2010100151
1
5
Holder(include screw)
2010100151
1
6
Sponge
1140700021
1
6
Sponge
1140700020
1
7
Bracket
2010100139
1
7
Bracket
2010100137
1
8
Screw  (M8*50)
1042500006
2
8
Screw(M8*50)
1042500006
2
9
Skimmer Pump
110210-A
1
9
Skimmer Pump
110208-D
1
10
O Ring (112*4)
1050100077
1
10
O Ring (92*4)
1050100073
1
11
Water Inlet
–
1
11
Water Inlet
–
1
12
O Ring(32*4)
1050100033
1
12
O Ring (26*3.5)
1050100028
1
13
Skimmer Body
–
1
13
Skimmer Body
–
1
14
O Ring (32*4)
1050100033
1
14
O Ring (26*3.5)
1050100028
1
15
Water Inlet
–
1
15
Water Inlet
–
1
16
O Ring (41*4)
1050100042
1
16
O Ring(32*4)
1050100033
1
17
Surface Degreaser
1040600082
1
17
Surface Degreaser
1040600081
1
18
Water Outlet Part
–
1
18
Water Outlet Part
–
1
19
O Ring (26*3.5)
1050100028
1
19
O Ring (26*3.5)
1050100028
1
20
Pipe
–
1
20
Pipe
–
1
21
Sponge
1140700010
2
21
Sponge
1140700010
2
1140700001
1
1140700007
1
22
Defoaming Device
1040600083
1
22
Defoaming Device
1040600082
1
23
Water Inlet
1
23
Water Inlet
–
1
24
O Ring  (28.8*3.1)
1050100090
1
24
O Ring (28.8*3.1)
1050100090
1
25
Venturi
–
1
25
Venturi
–
1
26
O Ring (32*2.5)
1050100031
1
26
O Ring (25*3)
1050100026
1
27
Air Hose
1050300002
1
27
Air Hose
1050300002
1
28
Silencer
3020110001
1
28
Silencer
3020110001
1
29
Valve
1
29
Valve
–
1
Article Code
Items
Classic 100-HOB
Article Code
Items
Classic 90-HOB
Model No.
Qty
Model No.
Qty
1
Top Cover
2010100141
1
1
Top Cover
2010100016
1
2
Collection Cup
–
1
2
Collection Cup
–
1
3
O Ring (100*3)
1050100075
1
3
Plug
1059900001
1
4
Skimmer Body
–
1
4
O Ring (41*4)
1050100042
1
5
O Ring (26*3.5)
1050100028
1
5
Silencer
3020110001
1
6
Water Inlet
–
1
6
Valve
–
1
7
O Ring (28.8*3.1)
1050100090
1
7
Water Inlet 01
–
1
8
Union
–
1
8
O Ring(26*3.5)
1050100028
1
9
Skimmer Pump
110208-B
1
9
Surface Degreaser
1040600081
1
10
Venturi
–
1
10
O Ring (26*3.5)
1050100028
1
11
Adjustable Surface Degreaser
–
1
11
Water Inlet 02
–
1
12
Air hose
1050300002
1
12
O Ring  (28.8*3.1)
1050100090
1
13
Silencer
3020110001
1
13
Venturi
–
1
14
Water Inlet
–
1
14
Adjusting Pipe
–
1
15
Screw (M6*15)
1042500002
1
15
O Ring (25*2.5)
1050100025
2
16
Water Oulet
–
1
16
Screw (M8*35)
–
1
17
Sponge
1140700006
1
17
Water Outlet Pipe
–
1
18
Holder ( include Screw)
2010100151
1
18
Sponge
1140700010
2
19
Screw ( M8*50)
1042500006
2
1140700007
1
20
O Ring (26*3.5)
1050100028
1
19
Defoaming Device
1040600082
1
21
Water Oulet
–
1
20
O Ring (28.8*3.1)
1050100090
1
22
Pipe
–
1
21
Union
–
1
23
Sponge
1140700010
2
22
Skimmer Pump
110208-D
1
1140700007
1
23
O Ring (25*3)
1050100026
1
24
Defoaming Device
1040600081
1
24
Air Hose
1050300002
1
Technical Data
Product
Wet/Dry
Fit Pump
Air Intake
Power
Maximum Flow Rate
Output Size
Tank Volume
50HZ
60HZ
50HZ
60HZ
50HZ
60HZ
L
US Gal
LPH
GPH
LPH
GPH
W
W
LPH
GPH
LPH
GPH
Classic 2000-HOB
Dry
AQ-2000S
720
190
719
190
17
18
750
198
750
198
ø40 mm
500-800
132-211
Classic 1000-HOB
Dry
AQ-1000S
420
111
454
120
8
9
350
92
350
92
ø32 mm
300-500
79-132
Classic 100-HOB
Wet
AQ-1000S
420
111
454
120
8
9
350
92
350
92
ø25mm
50-400
13-105
Classic 90-HOB
Dry
AQ-1000S
420
111
454
120
8
9
350
92
350
92
ø32 mm
300-500
79-132
Classic NS-80
Wet
OTP-200S
–
–
–
–
5
5
200
52.8
200
52.8
ø16mm
0-100
0-26
Explosion Charts
Explosion Chart for Classic 2000-HOB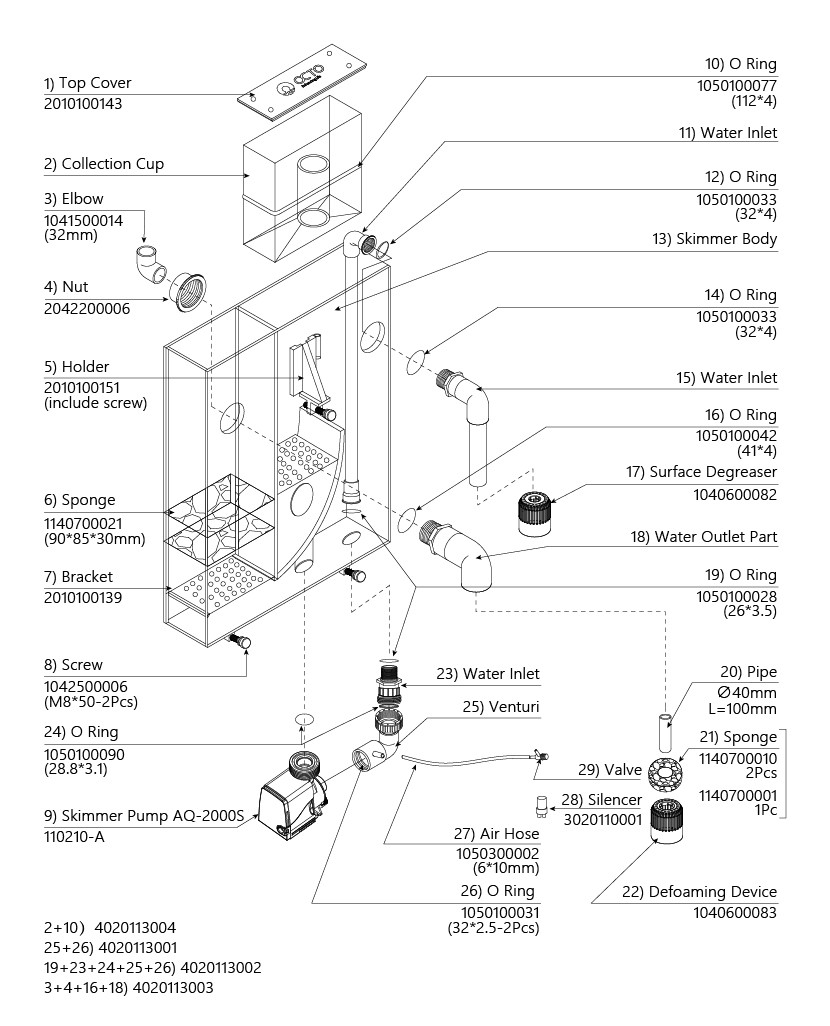 Explosion Chart for Classic 1000-HOB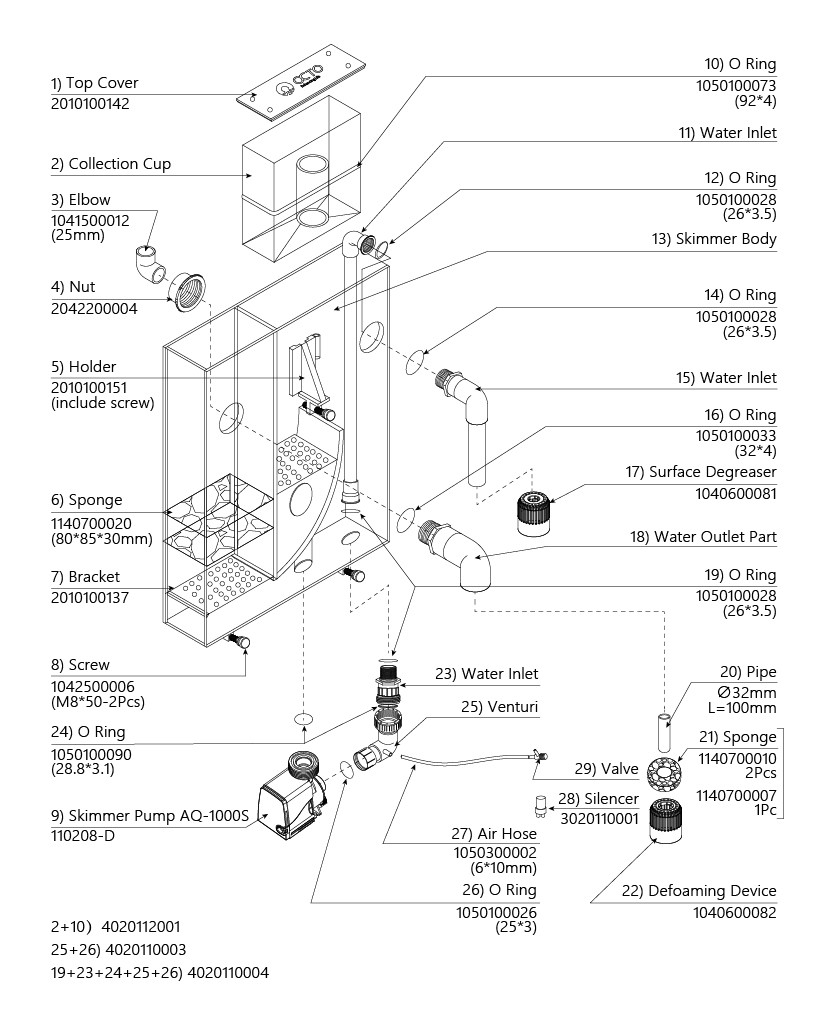 Explosion Chart for Classic 100-HOB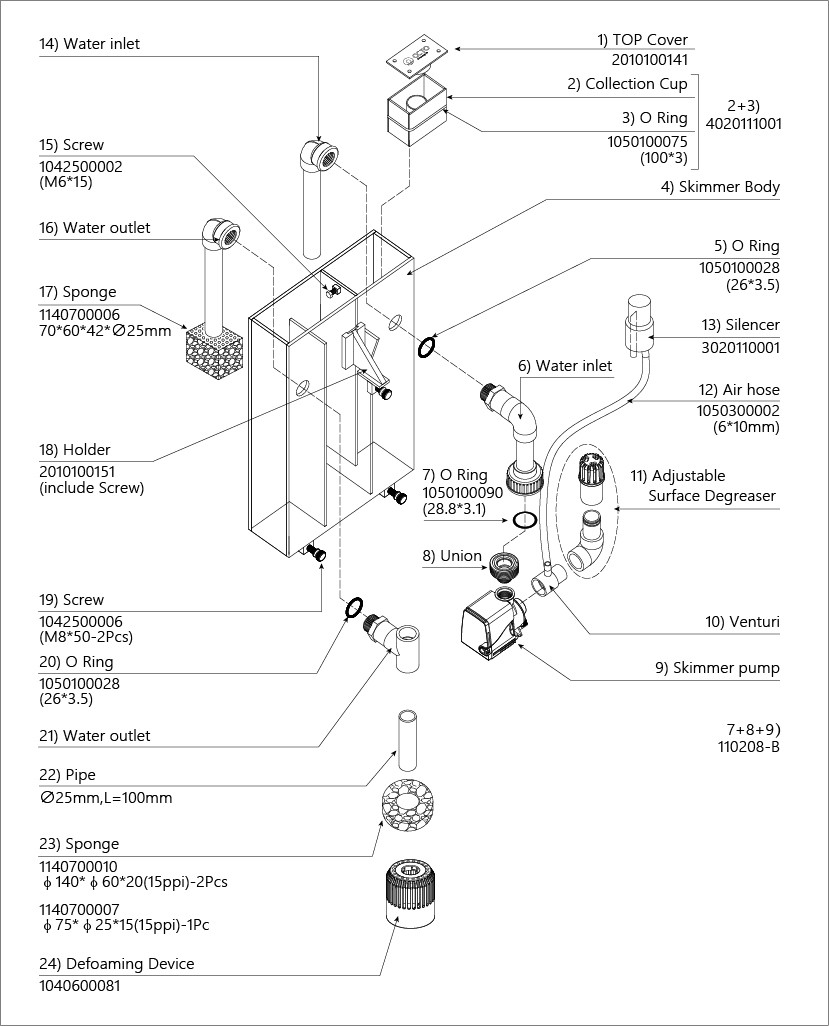 Explosion Chart for Classic 90-HOB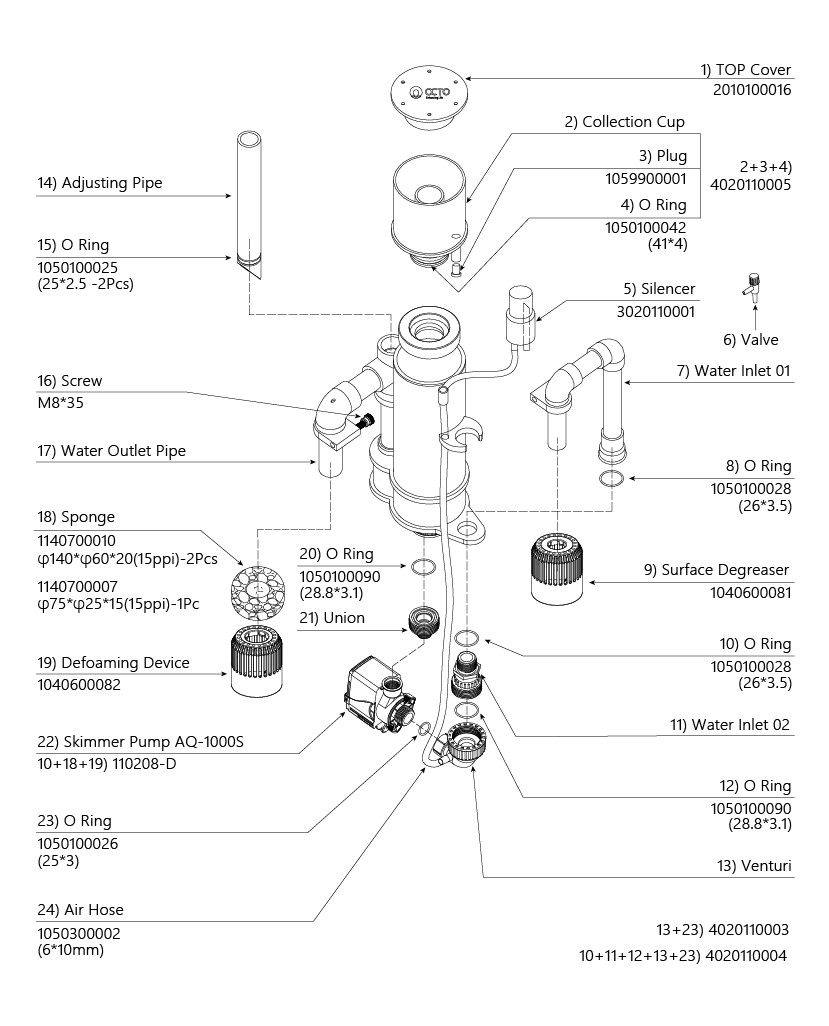 Explosion Chart for Classic NS-80